Date d'inscription :

28/09/2017
---
Avatar :

sonia ben ammar.
---
multi :

even stilinski, lashay kane.
---


Sujet: Re: stellars

28.12.17 14:36
1833
☾ ☾ ☾
i'm right here
crawling
back to you
I could be your lover and you could be my heartache And I could sing the songs that we used to sing way back when The future wasn't everything and we lived because we loved it then.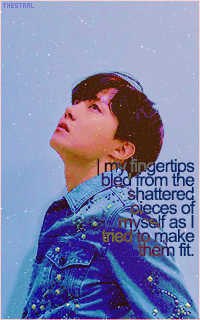 Date d'inscription :

30/09/2017
---
Avatar :

jung hoseok (bts)
---
Bloc-note :

update il est actuellement en couple avec joshua rhee - ils se connaissent depuis presque dix ans, et ont toujours plus ou moins été ensemble : ils se sont séparés ici et là (notamment quand yohan a découvert qu'eliott était son soulmate) mais finissent toujours par retomber dans les bras l'un de l'autre. Ils s'aiment vraiment, d'un amour confortable, doux, simple, mais quand bien même ils veulent que ça marche, yohan a du mal à oublier ses sentiments pour eliott, beaucoup plus irraisonnés et passionnels.
---
Admin

Invité
Invité

Invité
Invité

Date d'inscription :

06/09/2017
---
Pseudo :

obsidienne (anna)
---


Date d'inscription :

25/11/2017
---
INTERSPATIAL CINNAMON ROLL


Sujet: Re: stellars

29.12.17 1:26
537
ptn tro rich
☾ ☾ ☾
YOU DECIDE IF I LIVE OR DIE
WHEN YOU'RE CLOSE I'M ALIVE
I CAN FEEL THE SKY
Invité
Invité

Date d'inscription :

06/09/2017
---
Pseudo :

obsidienne (anna)
---

Invité
Invité